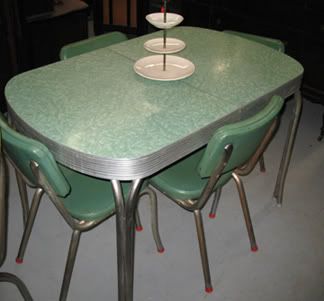 Well, I come from a very modest family, so I was checking out yard sales and thrift shops, ohhhh about several+ decades now. I think I started a bit out of necessity, and a bit from thinking old stuff was cool.
Among my very first purchases were the tinsel trees (2 of them) for 25 cents,
and my Steiff Gussy cat, also 25 cents. Jeepers she looks dirty in this photo! It's my bad photography.
Oh these were not "popular" back then, simply a couple of the few lucky deals I got.
Back then, if the other kids found out you shopped "second hand", they gave you crap. But I loved looking at all the old treasures, and I always found things I loved and were affordable to me.
I continued buying, never stopped, really. Mom and I used to make all the thrift shop rounds. It was so much fun looking for treasures!
And as much grief as eBay has given me, it puts you in touch with things you could never buy locally. At least around here. Not to mention how fun it still is to "shop" eBay looking for that must-have item.
So what about you?
When did you fall in love with vintage buying and collecting, and what were the first things you bought?
.
.