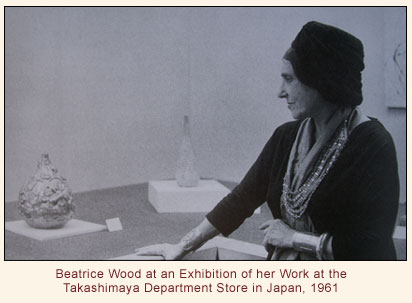 Back when my folks moved out here to California from the East, and before they had us kids, they knew a couple in Ojai CA and went out there to visit.
It was also where
Dada artist Beatrice Wood
had her
studio.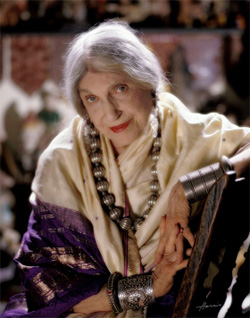 Now Mom loved pottery and artist-made things, and she and Dad went to visit Beatrice at her studio.
Mom said she used to go around wearing an Indian sari and was doing so that day.
I believe Beatrice was just another local artist back then.
Mom fell in love with these two seahorses and bought them:
That's the only photo of them in our living room I have, taken back in 1959 according to the date on the side of the photo.
Mom said Beatrice wrapped it up carefully, but kind of quickly. Sort of hustled it into the wrapping and box she gave Mom to carry it in.
Anyways, My folks took her to lunch to be kind and talk to her a bit (she was still a struggling, unknown artist at the time) and all was well until Mom got home and unpacked the seahorses.
One of the seahorses had two tips of its spines broken off.
Mom was extra careful to unwrap them, and double-checked all the wrapping carefully. But lo! Beatrice Woods had sold Mom a broken set of seahorses! She remembered how Beatrice had turned away to pack them, and did so quickly. There could be no other explanation. Mom was sure of it.
But, she still loved them, regardless.
Unfortunately, very unfortunately, they were both broken a couple years after she bought them. Too bad, because it is probably the only "famous" thing we owned.
Ah well.