What are they thinking? I don't get it. Some of the oddest mid-century items on eBay sell for such unusually high prices. Can someone enlighten me? I mean, these are not rare items, nor were they terribly popular all by themselves. Are they being featured in newer design books on the 1950's? That's what I am guessing.
Now I am not talking about designer-name items. Charles Eames, Panton, Wright, Crespi, Fornasetti, Jacobsen, or Noguchi.
Here is the first example:
Starburst wall clocks.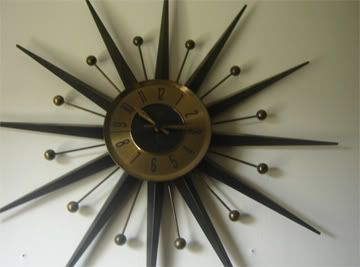 They sell around $100-$200.
And this seller seems to have an endless supply of "vintage" starburst wall clocks:
He starts them at $24.99 and last Christmas I was watching one that ended with no bids. I emailed and asked if he would do a Buy It Now for the bid price. As you can imagine, I got a rather terse reply. It wasn't until I kept checking eBay that I realized this seller seems to have hundreds of the "mid-century" clocks.
I'm
guessing
they are not
really
"vintage" but reproductions, which is fine, but advertise them as such.
Here is another mystery. Fiberglass bullet planters:
They also sell in the $100-$200 range.
There is another seller who always photographs them by a swimming pool who seems to have an endless supply of these "vintage" planters.
I did a web search on them and lo! They are making a whole lot of bullet planter reproductions. Brand new,
not
"vintage."
The same thing with fiberglass, whip-stitched lampshades. They are making reproductions. And some auction photos I look at for these sure seem to be extra clean on the metal parts. Brand new, but listed as "vintage."
So, in conclusion, not only do I not understand why these particular things sell for so much money, but since there seems to be an endless supply of them, why they continue to sell for so much. And, if you want something that is genuine vintage and not a reproduction, be careful what you buy.
*Disclaimer: I can not be sure of any of these thoughts as fact, these are simply my observations and opinions. I would hate to pay so much for what I thought was a true, as advertised vintage item only to discover it's a modern reproduction.