Some of you may think these are terrible and far too cheesy to consider "real" art.
But I adore some of these, and they are quite well done, if the artist took a little time to make sure they did a good job.
The Hawaii and pink flamingo paint by numbers tend to sell for the most. And the nudes.
But I find this pair of Fall landscapes just so charming:
I love the Fall season most of all, and am considering these. But, where to hang them? They are the larger sized pair, and my wall space is at a premium for something like this.
I can only think these would "fit" in the hallway, but I want mostly family photos in there.
Mom, Grandma and my great Aunt were all artists, and I'd like at least one example of their work on the wall. Oh how I wish I had more of Mom's artwork. But alas, over the years, they were thrown out.
Grandma did some art herself, and my great Aunt did a lot of wonderful sketches of women in the 1920's. I have more of their work than Mom's.
What to do?
Now the Fall landscapes are up to $51 for the pair. Landscapes such as these almost never sell for this much money. Well of course, it's because I wanted them. Ha ha.
These are very nice too: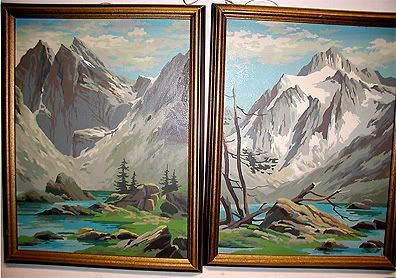 So are these: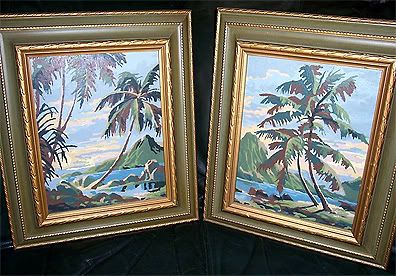 Do a search yourself ad check out all the wonderful different vintage paint by numbers artworks for yourself!