As I sat around thinking about past summers, I remembered the old, industrial green metal box fan we used to cool the house when I was a kid.
Had just remembered it a couple days ago when I happened to come across the very fan on eBay while not trying to look. I didn't remember the brand name, but recognized it immediately.
It's a Zero!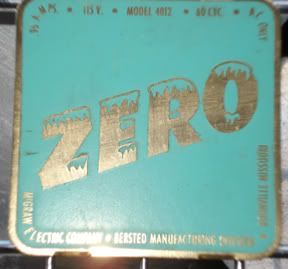 I tried putting in a bid, but eBay was glitching all afternoon, so someone else snuck in a higher bid, but no matter. I know what kind it is and I can keep my eye out for one in the future. It's just cool to see a photo of the old fan and remember those hot summer days sitting in front of the old black and white t.v. watching the old shows.
At the same time that auction was ending, my large mid-century atomic sculpture arrived. It's amazing! Perfect for my living room.