So I'm cruising around google to try and find a black and white photo of a 1950's Ranch House to incorporate in the top design banner, and I see almost none. I found a cool blog post with a tribute to Ranch homes, but virtually no old photos.
I have a couple old photos taken of the exterior of my home back in the 50's, and may have to photograph them for use. In fact, I have a few interior photos too, which I will get around to posting.
I remember the kitchen had one of those square silver crushed ice Formica tables and matching chairs. Did I already mention I bought a green crushed ice Formica table and four chairs about 10 years ago? It looks like this one: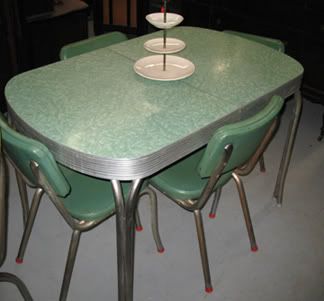 Except mine is oval, and the chairs have the same crushed ice upholstery. But I love that triple-tiered tidbit tray on this one in the photo, and have been checking around for one. They are quite common.
In fact, I bought a lot of things I didn't have room for at the time, but something kept whispering at the back of my mind to get these things.
So back to the logo. I have, amazingly, the original brochure for my housing tract, which shows the home designs available back in the mid-50's in my neighborhood. Perhaps a photo of that would work. I doubt any of the homes in my area still have this little piece of history.
Hey! We want to see photos!
Yes, I know. I am a bit lazy about these things.
I designed a potential logo and it looks monstrous lol. I may be a professional artist, but some things just don't come easy.