Just came across this redone 1950's interior. I hope the designer won't take umbrage to what I'm about to say. (It was a hired designer).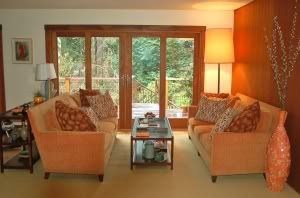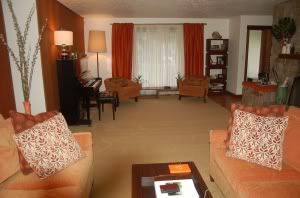 There is virtually noting in this room that "defines" it as 1950's. No two-tier fiberglass lampshades, no boomerang ashtrays or starburst clocks.
You don't have to fill a room with nothing but Eames or Herman Miller, but you do need just enough "brute" 1950's items to define it as such.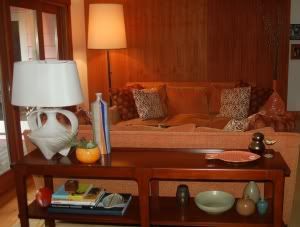 As it stands, with the autumn gold colors, this room could be from the '60's, 70's or early '80's.
Please remember, this is simply my own opinion. The room looks wonderful otherwise.
Next major thing on my list is having the living room and hallway floors sanded and varnished. The other three bedrooms with have to wait because I simply cannot get all the rooms cleared at once.
Once the two rooms are done, furniture from the living room can come in out of the garage/studio, and I can get that cleared out of virtually everything.
At any rate, once the two floors are done, then I'll set about painting and putting up new curtains.
Oh how I'd love atomic geometric Eames mid-century curtains, but the living room is big, and half of it is made up of big windows that look out onto the backyard. When 1950's material (or even modern reproduction) cloth sells for $20 or more a yard, there is no way I can find that much nor want to pay that much just for curtains. Six white queen-sized sheets will have to do. They are lightweight and will let a lot of daylight into the room. Easy to wash as well.
I toyed with the idea of stamping my own retro pattern on them, but we shall see about that.
The cats are thrilled with the open back yard.
Too many things stuffed on the back porch to make way for the workers, so will have to get that settled.
So much to do. One step at a time. Meanwhile, if you are working on your own projects, remember to enjoy as you go along.