I had a crew of six men in here on July 2nd to cut down virtually my whole, overgrown backyard.
I have one of the more sizeable backyards in my suburban neighborhood. 40' x 65'. Nowadays, you get a post card sized lawn in new homes around here.
Once all those bushes and such were removed from the back and along the side yard, a ton of sunlight comes streaming into the living room, master bedroom and bathrooms, which is wonderful.
I thought about making it as traditional mid-century landscaping as possible, and went looking online. Nothing much, nor anything that grabbed me.
In my area, palm trees are popular, with white rock and lights lighting up the palm trees.
But most of all, I love Fall color, so think I will go with a Liquid Amber tree,
Birch trees
and maybe a Japanese maple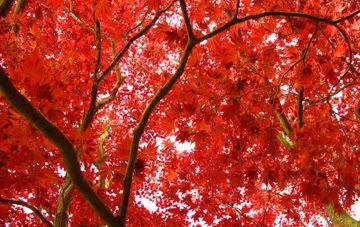 set in a green lawn. I simply don't have the extra money to sink in a lot on landscaping, but it's a big, uneven dirt patch right now, so I need it tilled and a lawn planted. And I'll fill in between the trees with Heavenly bamboo shrubs, purple fountain grass, tiger Canna lilies and red and orange lantana.
I said it before, sometimes you simply have to go with what YOU like.
But what a relief to get the old, overgrown stuff cut down out there, and accumulated junk removed.