Some of the most beautiful vintage mid-century tablecloths are made by Wilendur. From the Weil and Durrse Company. In 1958 Weil & Durrse added an "e" at the end of Wilendur.
I came upon my first Wilendur at a thrift shop about 15 years ago.
Even though mine had a few stains on it, I was struck by the weight of the material which was like sail cloth, and the beauty of the design.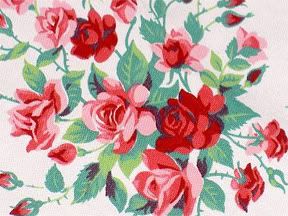 Still plentiful today, you can find these for sale all the time on eBay for a very good price. About $10-$20 on average.
I suspect because of the current popularity of pink as a dominant color, these remain plentiful, but don't let your mid-century home be caught without at least a few of these amazing beauties.
Because of the heavy weight of the material, you can use any stained or damaged one's for any number of projects. Café curtains, pillows and chair covers to name just a few.