I got my pair of pink machine age style lamps and I'm thrilled with them.
They are so lightweight; I may have to figure out some way to keep them a bit more secured from being tipped over so easily. They can't weigh more than just a few ounces. And as I suspected, they look wonderful with a similar Art Deco machine age candlestick I have.
I also got the sweet tile plate.
The tile plate is wonderful, and reminds me of the similar tile things Mom had. I think we used to have sheets of small tile on what looked like netting or tulle, ready to lay down on a tabletop and grout in.
The back of the plate is more worn than the auction mentioned, actually it didn't mention the back of the plate at all, but the front will be displayed. Tile colors are clean and wonderful.
And the mail arrived, and my two other black and gold lamps with the fiberglass and print lampshades arrived today!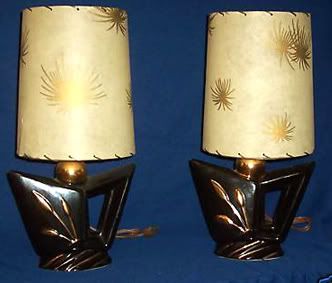 I'm thrilled. I want to get that living room cleared out of all the things I had to pull in there in the first place in order to clear out the house of all extra "stuff" so I can get the floors done, walls painted, new curtains up and get these lamps displayed.