I snagged these wonderful heavy pink satin pillowcases for a song on eBay.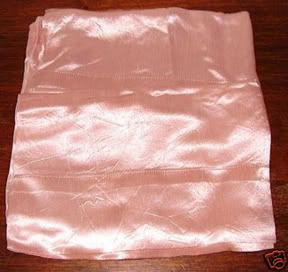 And once again, I see the lamps my folks used to have in their bedroom. I didn't know this was actually a set of three. As I stated before, my parents had the two smaller ones, but in a green color, not turquoise.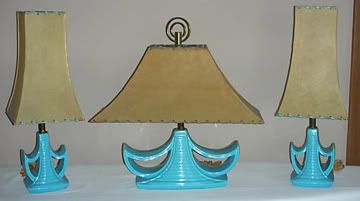 Too "Asian" for the Master Bedroom, and the wrong color, and this seller wants far too much money for the trio, but it's neat to see them again.
I hired a crew to come clear out the backyard this Thursday. A grand garden had been planted in the backyard, which is one of those sizeable back yards they allowed back in the 1950's. It's about 40' x 75'. But alas, it's overgrown and needs to be redone. I don't mind the "wild" nature of it, but I'm afraid it's a bit too wild.
My plan is to have as many popular plants of the era while keeping it sleek and trim as opposed to a more "country" garden. I once saw some amazing landscaping done using a lot of concrete and small beach rock. The less maintenance and more sleek the design, the more I like it.