I've finally reached that point where I can start pulling out all of the vintage things I have, and see what I have, what I need and what I can pack away.
This is the part I have been waiting for!
Oh, I still have a lot to do in terms of "grunt work". Namely painting walls, and having floors refinished or redone.
But I felt I needed to "reward" myself and allow myself to "play."
I brought in much of my vintage collection from the Studio shelves (covered in a fine black soot-like dust from the crappy a/c I had blowing in the Studio the past couple years, and despite the shelves being covered with curtains, this soot seems to have worked it's way into everything out here).
I've discovered, there really is very little I "need" to buy. I have so many wonderful things, and not too many of them (except my collection of small chrome kitchen appliances).
I have enough linens for several of the curtains I'm going to put up in the smaller bedrooms. Lots of vanity and make-up items. Purses, gloves and glove box, hats, handkerchiefs, panty hose, hand towels, aprons, jewelry, knickknacks, photos, ashtrays, vases, planters… Hamper, tablecloths, shoe rack, furniture, theme decorations, holiday… Gosh you name it, I have it.
The only things I've been looking at on eBay lately are just a few select lamps. Oh and I snagged a kitchen timer with a fantastic rocket-shaped handle, mosaic tile plate (because we used to have similar), a few airline tags for my vintage, luggage label-covered vintage suitcases and maybe another boomerang shaped ashtray.
Latest additions: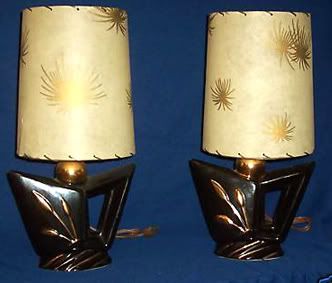 So similar to a pair of lamps I bought a few monthe ago (see pics on prior pages here).
Sweet tile plate like Mom used to have.
Don't you just love the rocket-shaped dial handle here? Got this for a song. Just a few dollars.
The living room will be last to get set up, so I'm not sure if I have too much stuff for it or not.
I got out my vintage quilts yesterday too. Gosh I love those.
One is a 20's-30's crazy quilt, a log cabin or star-step quilt (forget what the pattern is called) and a couple sweet simple very 1940's-1950's cotton square quilts.
The two first one's are silk, and the material is "shattering" in many places. Does anyone have any ideas about what to do about this?
You can't really "use" them as quilts because any pressure on them creates more shattering. But I love looking at the different patterns of material they used for the quilts.
Cutting it up into pillows will still shatter the material if they are used.
I've thought of sewing some fine netting over it. But that won't prevent more shattering.