After working very hard for a very long time, I decided to reward my new project and myself with a few things from Ebay.
I had not bought anything from Ebay in ages, so I dipped my toes in with small pieces of barkcloth and a green wall pocket.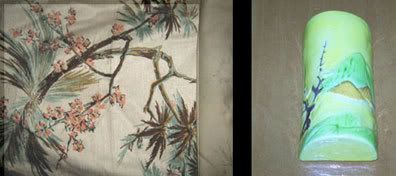 Not sure why I went with Asian. The hanging lamp in my kitchen has an Asian influence, and my Mom has quite a bit of vintage Asian things, but I keep fighting it. It's simply not the look I am going for.
The green wall pocket turned out to be yellow, and the barkcloth is wonderful, but will need to be made into pillows.
My next purchase was to get another pink Western Electric dial telephone like we had in the kitchen, and this one did not disappoint! The salt and pepper shakers have that wonderful starburst design on them, the boomerang vase is bigger than it looks, and the pink and green rose candy dish is perfect and goes well with the pink and green kitchen colors.
The Deco green salt and pepper shakers were for fun, and because I still cannot deny my favorite era is the Art Deco era.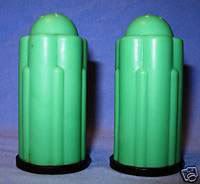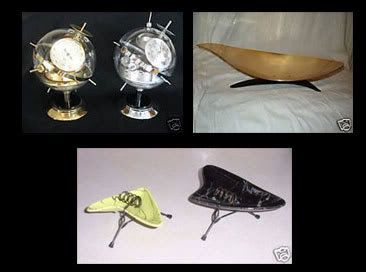 I had to get this pair of "Sputnik" style German barometers. Space age stuff is undeniably cool, and I have been fighting the urge to get a lot more of it. It would make my living room more masculine than it is already, so I resist. The gold Mirro tray on tripod-like legs was for fun, and these boomerang ashtrays were an absolute must!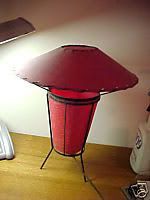 Next was this red fiberglass whipstitched tripod lamp, which is bigger than it looks here and turned out to be a good buy.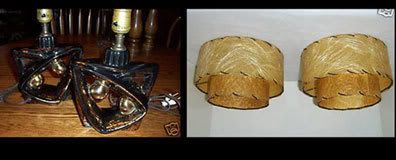 Had to have these atomic lamps, which cost less than the pair of two-tier fiberglass lampshades I bought for them. Ouch those lampshades are expensive! For a while I thought maybe the atomic black lamps might actually be from the 1980's, but have since seen a chartreuse one on ebay, and they didn't make too many things in that color in the 80's. Whew.

Next I got what was advertised as a red two-tier fiberglass lampshade for a big round black lamp I already have. But when I tried the shade on the lamp, I discovered it's a heavy paper which shows no light through the material at all, so I got a three-tiered fiberglass whip-stitched shade which was, once again, quite expensive. That has yet to arrive, but I'm sure it will look fantastic.
My biggest Ebay disaster so far is a floor lamp I bought for over $100, which arrived with the two lamp sockets clearly hanging from their wires, so I had to rig them up with string. Ugh! It needs a new paper shade as well, so I really got screwed on that deal I hate to say.