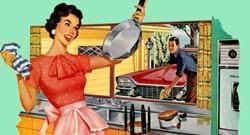 I had dreams of hiring people to sand and varnish my hardwood floors, come in and paint for me, sand and paint my kitchen cabinets, fix all the electrical and plumbing, paint the exterior, retile the bathrooms, even do some landscaping incorporating 1950's style plants and design. Of getting a lot done quickly.
But alas the bad economy has trickled it's way down to me, and judging by the past few months, I will have to do as much of the work myself as I can.
When I converted the large garage into an art Studio, I did most of the work myself: the insulation, had help hanging the drywall, I taped and finished it myself, had help installing a window, skylights, and painted, of course, so I do know how to use power tools and brushes. But even that alone took two years.
But doing it myself will take time, and I am anxious to get it done asap. I want to be able to get everything out, all of my vintage things, all of the furniture I have put in the rooms they need to be in, and enjoy the fun part: the decorating and perhaps buying of things I want for fun to add to the spaces.
At this rate, not even to the point of sanding the floors just yet, it seems like it will take forever. I am waiting on someone to come get their things out of one key room, which will make space for what's in the living room to go in there to get the room completely empty. I'll have to move a heavy wood dining set out to the Studio, and in moving things around from room to room, the disorder makes me uncomfortable. Seems to me in order to get things IN order, I've had to push the same "stuff" around and around. Will it ever end?
Trying to cheer myself up, I went to the local bookstore to thumb through 1950's Interior Design books, and discovered they had none. Not a single one! A book on Danish Modern was predictably full of photos of designer furniture and little else.
I see there is a magazine called Atomic Ranch but back issues are selling for over $20 a copy on Ebay. Sigh. I'd rather buy something vintage for $20 than buy a magazine sight-unseen.
On the upside, I do work here from home, so I can push furniture and things around in between work, play here on my blog, browse Ebay, and do what I can while I am waiting for the next step to happen. I have already found a few other cool 1950's blogs with folks redoing 1950's homes, but I am so jealous because it shows them getting tile work done, painting and all sorts of things I am unable to do at this time.
Thanks for letting me vent.