Here are some nice barkcloth auctions right now on eBay. A bit pricey for me at $50-$80 a small piece each, but the designs are really cool.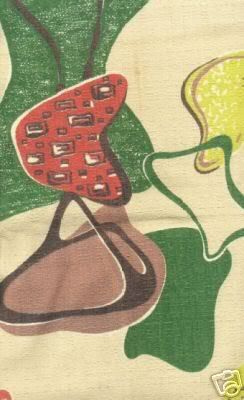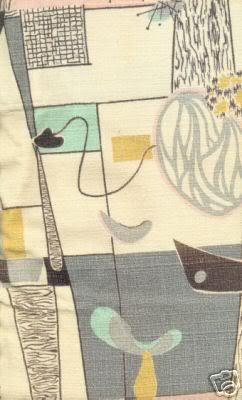 Today is a holiday so no mail to look forward to, and no eBay purchases. I have two Classic movies to watch which I love. I often look at the set design for inspiration and for a peek into what "real" 1950's style looked like. Someday I will list the movies with some of the better sets ranging from the 30's to the 50's.
Can you believe the 1950's is already 60 years ago? And the Art Deco era is almost officially "antique" at almost 100 years ago? The older I get, the faster times flies. When I was a kid, a day seemed to take forever, didn't it seem that way to you? Waiting for my favorite holidays like Halloween and Christmas took months, but summer was gone in a flash.
I have photos taken of my house and inside back in the late 50's and early 60's, and I will get those out and photograph them and share. I should use them to create a logo for my blog here.
Meanwhile, while the interior project moves much too slow for me, I surf eBay and look forward to all the smaller things I am passing by for now until I see what I want and need for each room.